core i9-7920x was finally released on September 10th, which was originally announced to release on August 28th.
Although the core i9-7940x and higher models are announced as released on 25th September, is it really released as predicted?
(The top image is from this site.)
日本語版:12 コア core i9-7920x やっと発売!

Fastest on Single Thread Performance!
What made us surprised is that 7920x took a first place on PassMark's Single Thread Benchmark! Though 7920x's clock speed is 2.9GHz that is very low as a high end desktop CPU, however, its performance is incredibly high!
Despite the lower clock speed than the core i9-7900x of the same series, it is not clear why single thread performance is higher, but according to this page, LCC is used for 7900x and lower model, MCC die is used for 7920x and higher model, which might be the reason of the difference of single thread performance.
Even for multi thread performance, 7920x recorded the second highest score. Core i9-7920x defeated Threadripper 1950x in a single thread, so 7920x is also overwhelming Threadripper in multi thread performance despite the difference in the number of cores, 12 cores vs. 16 cores.
Therefore we assume that 7920x is the fastest CPU for gaussian!
Core X series
The specs of this Core X series are as follows.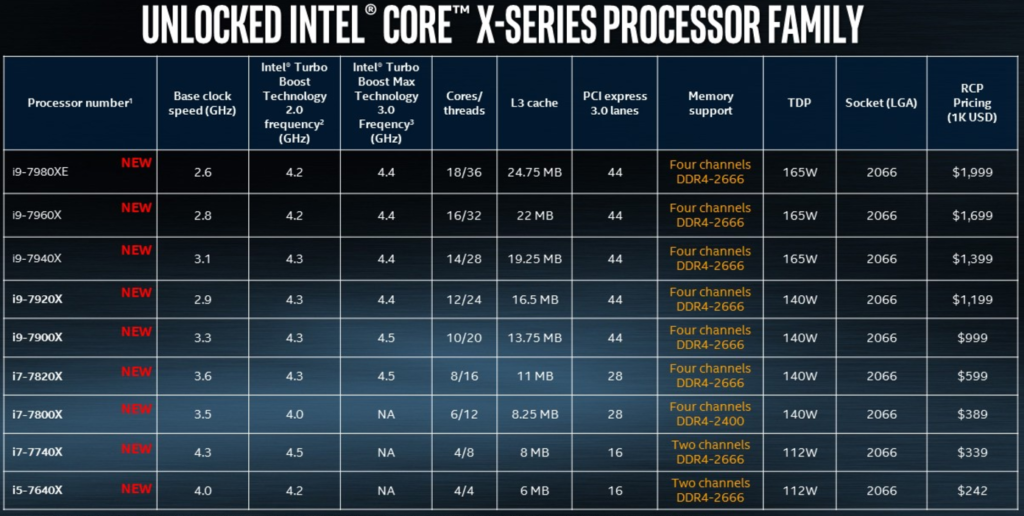 Since core i7-7820x also has 8 cores, it can be used for calculation, but because it is a small number of available PCI express 28 lanes, it makes me feel a bit lost.
Sincemany people submit gaussian job with 4 cores, we think that 12 cores or 16 cores are appropriate. But when will the 16-core 7960x be released?
Other
Concerned about the extent of TDB. According to this site(Japanese), it seems that 7900x tend to ignore the official TDP value. Since this site is about 10 cores-7900x, which uses different die, we are not sure how much heat with 12 cores?
Anyway, we will purchase the core i9-7920x and do benchmarking using gaussian's test sets 397 & 310 in the near future.
Related Artcles