This article summarizes Ryzen 3900x's Gaussian16 benchmark.
日本語版:Ryzen3900x の Gaussin ベンチマーク【AMD Zen2】
Test condition
The following three CPUs were used for this benchmark test.
AMD Ryzen 3900x
Intel core-i9 7960x
AMD Threadripper 1950x
Gaussian16 revision C.01 was used for this benchmark test.
Likely to the benchmarks we have provided on the site so far, the elapsed time of structural optimization and frequency calculations for vomilenine are summarized in the table below.
result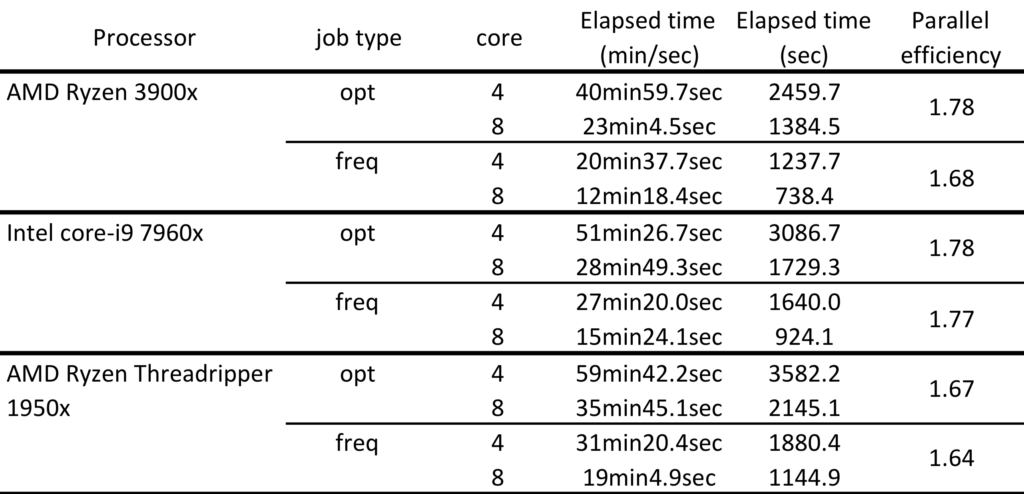 The following graph shows the Elapsed time (sec, y axis).
Ryzen 3900x is about 1.25 times faster than core-i9 7960x and about 1.5 times faster than the 1st gen Threadripper 1950x. Parallel efficiency is also not bad.
According to PASS MARK's single-thread performance benchmark, Ryzen 3900x is 2918, core-i9 7960x is 2337, and the 1st gen Threadripper 1950x is 1991.
2918 ÷ 2337 = 1.24
2918 ÷ 1991 = 1.46
As shown above, Gaussian's execution speed can be roughly estimated from the PASS MARK benchmark.
Not only the calculation speed but also the most important thing is the price. Ryzen 3900x costs $499, core-i9 7960x costed about $1800 (at that time), and the 1st gen Threadripper 1950x costed about $999 (at that time). The 16-core Ryzen 3950x is still $749.
There is no doubt that the Ryzen 3000 series is the best CPU in terms of performance and cost! It is true that the ZEN2 generation doubled floating point performance!
If you don't have much budget but want to buy a machine for DFT calculation, you should buy Ryzen 3900x or Ryzen 3950x. Of course, laboratories with plenty of budgets can buy the 3rd generation Threadripper or 2nd generation EPYC, which will be released soon!
Conclusion
When we bought the 1st gen Threadripper, we felt that the cost per core was good but the single thread performance was weak.
In addition, recent AMD CPUs do not support the intel compiler, so there was an inconvenience that binaries compiled with the intel compiler could not be used with recent AMD's CPU. Therefore, we hesitated to buy AMD's CPUs….
However, this Ryzen 3000 series showed good performance. The inconveniences mentioned above are minor things now.
Intel says they will overtake the Ryzen 3000 series with the next 10nm process rule CPU.
However, Intel's 10nm processor has been postponed many times, so it's really suspicious that it will be released.
AMD has also completed the development of ZEN3, and it seems that the next Ryzen series will have a 7nm process with 20% improved density. Also, it seems that ZEN4 is under development, which seems to be manufactured with 6nm process rules.
We feel that AMD will soon overtaken by AMD even if Intel offers a good CPU.
Related Articles